PHL Airport's Airport Exhibitions Program is celebrating its 25th anniversary. Over the coming weeks, the airport will take a look back at some of the artists who have participated in the program over the last 25 years.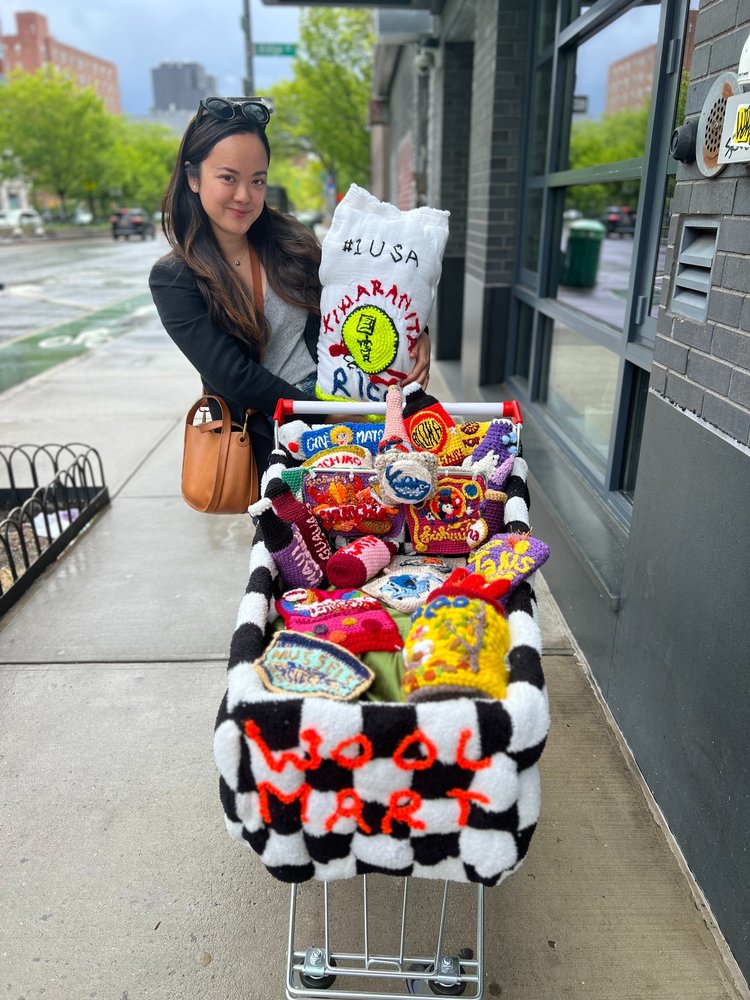 Name: 
Kiki Aranita
Title/Background: 
Kiki Aranita is a Philadelphia chef, food writer and fiber artist who has been described by restaurant critic Craig LaBan as "a classics scholar-turned-food trucker and chef dedicated to sharing Hawaiian flavors, [who] has long been one of the more fascinating figures in Philly's food scene." The COVID-19 pandemic gave Aranita a chance to reinvent herself as a hot sauce entrepreneur and creator of one-of-a-kind yarn re-creations of snacks, sauces, and tins.
PHL Installation:
2021 – Terminal B, Yarned Snacks, Sauces and Tins
Describe in general your artistic themes/subjects and the media that you work in.

My whole life, I have been obsessed with brand packaging. My mother was a graphic designer involved in packaging design. She was exceedingly frugal, to the point where if we wanted something when I was younger, we had to make it! Dolls, stuffed animals, typical kids' playthings. I grew up with the notion of being able to make anything. It felt mean at the time, but I am grateful now for that experience. 
I combined my interest in packaging with cooking, opening a food truck called Poi Dog with a partner from graduate school. The COVID pandemic caused the restaurant to close, but I took advantage of that opportunity to launch a retail Poi Dog hot sauce business. I worked closely with designers to develop packaging for the sauces that was meaningful, different, and would stand out on shelves.
During the pandemic, I also began crocheting. A friend taught me how to crochet one stitch, and I was off. I made sweaters for dogs and people but quickly got bored so I came up with the idea to recreate product packaging with yarn. Much like my cooking, in which I incorporate food scraps into different dishes, I collect yarn from friends and my local Buy Nothing group. I'm environmentally conscious and want to avoid polluting our waterways with textiles, so I prefer animal-sourced yarn and naturally dyed wool.
 
What did you exhibit at the airport and what inspired this particular body of work?
I grew up in Hong Kong and Hawaii, and attended a British school. A lot of these cultures didn't factor into my life in Philadelphia. During lockdown, I longed for the snacks I had grown up with – so I started crocheting them. One of my first creations was Ribena, a black currant-based soft drink. I also have a tinned fish obsession, so I began collecting cool Portuguese fish tins and crocheting them. 
With the airport exhibit, I wanted to incorporate and display stuff from my life, so I included items I had made over the previous two years. 

What was it like exhibiting at the airport compared to where you usually display your work?

The airport gave me a huge platform to show people for the first time this crazy thing that I do! Crochet is typically thought of as a craft, not necessarily an art. The airport opportunity led me to start thinking about my work as more sculpture than something useful. I'm holding on to the pieces from the airport exhibition for future shows and opportunities – it really kicked off a lot of different opportunities, including being able to to sell at craft bazaars and as commissioned work, and to display in storefronts.  

What impact, if any, did the PHL opportunity have on your future work/career?
The whole experience was such a delight and was my favorite part of the last decade. I heard from friends who specifically routed through Philadelphia to check out the exhibit, and saw selfies of strangers with my display on social media. And because the stuff I crocheted was so internationally focused, it spoke to a huge swath of people. It reminded people of a specific memory or something they grew up with. 
The airport experience made me much better  – it helped me to pace and challenge myself. I wish I could do a 2.0 exhibit!