In the past year, as the COVID-19 pandemic continued, Philadelphia International Airport (PHL) has been sharply focused on ensuring the health and safety of passengers and employees using the facility. In that time, PHL and its partners have put into place new cleaning protocols and technologies aimed at keeping the airport community safe and comfortable.
In its continuing efforts to introduce measures to help mitigate the transmission and spread of COVID-19, the airport is adopting air cleaning technology known as Bipolar Ionization (BI) within the complex's air conditioning and heating systems.
"This is an advanced air cleaning system that will help prevent the transmission of COVID-19 and proactively clean the air that is recirculated throughout the facility," said Api Appulingam, Deputy Director of Aviation, Capital Development. "We are essentially bringing the freshness of outdoors indoors."
Bipolar Ionizer produces millions of positive and negative charged oxygen ions. These ions travel through the duct system and into the conditioned room where they interact with the airborne particles, germs, and gaseous contaminants. Ions bond with contaminants to gain size and they transform into clusters. These clusters can now be caught by air filters installed inside the air-handlers and removed from the air flow. This technology is also used to mitigate the spread of viruses and bacteria, resulting in improved indoor air quality for commercial buildings and facilities.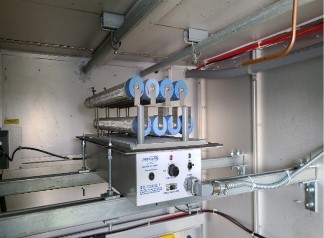 The airport's engineering department investigated several vendors to determine effectiveness, cost and maintenance requirements. Global Plasma Solutions (GPS) was selected for the initial phase.
As a leading manufacturer of air purification systems, GPS has recently demonstrated the efficacy of its patented Needlepoint Bipolar Ionization (NBPI) technology in neutralizing SARS-CoV-2, the virus that causes COVID-19. GPS conducted a set of tests to determine the efficacy and published "Performance Report:  SARS-CoV-2 In-Air and Surface Testing." The report concludes: "In an environment employing GPS® NPBI™ technology, active virus in the air was reduced after 15 minutes of exposure in aerosol form, and collectable virus in the air was significantly reduced over the course of 60 minutes. By contrast, the control test, which lacked ionization technology, resulted in much higher measurements of the virus. NPBI reduction results were achieved without reliance on or production of harmful ozone."
PHL has more than 450 Air Handling Units throughout the airport complex. The first phase of BI technology installation began earlier this year and the next phase is currently being designed.