Airport Operations Officer Supervisor Jeremiah Hall was recognized in the "Teamwork Makes the Dream Work" category of Philadelphia International Airport's (PHL) second round of the Employee Recognition Program. This distinction acknowledges employees who create a positive experience for guests through service and delivery while collaborating with other organizations.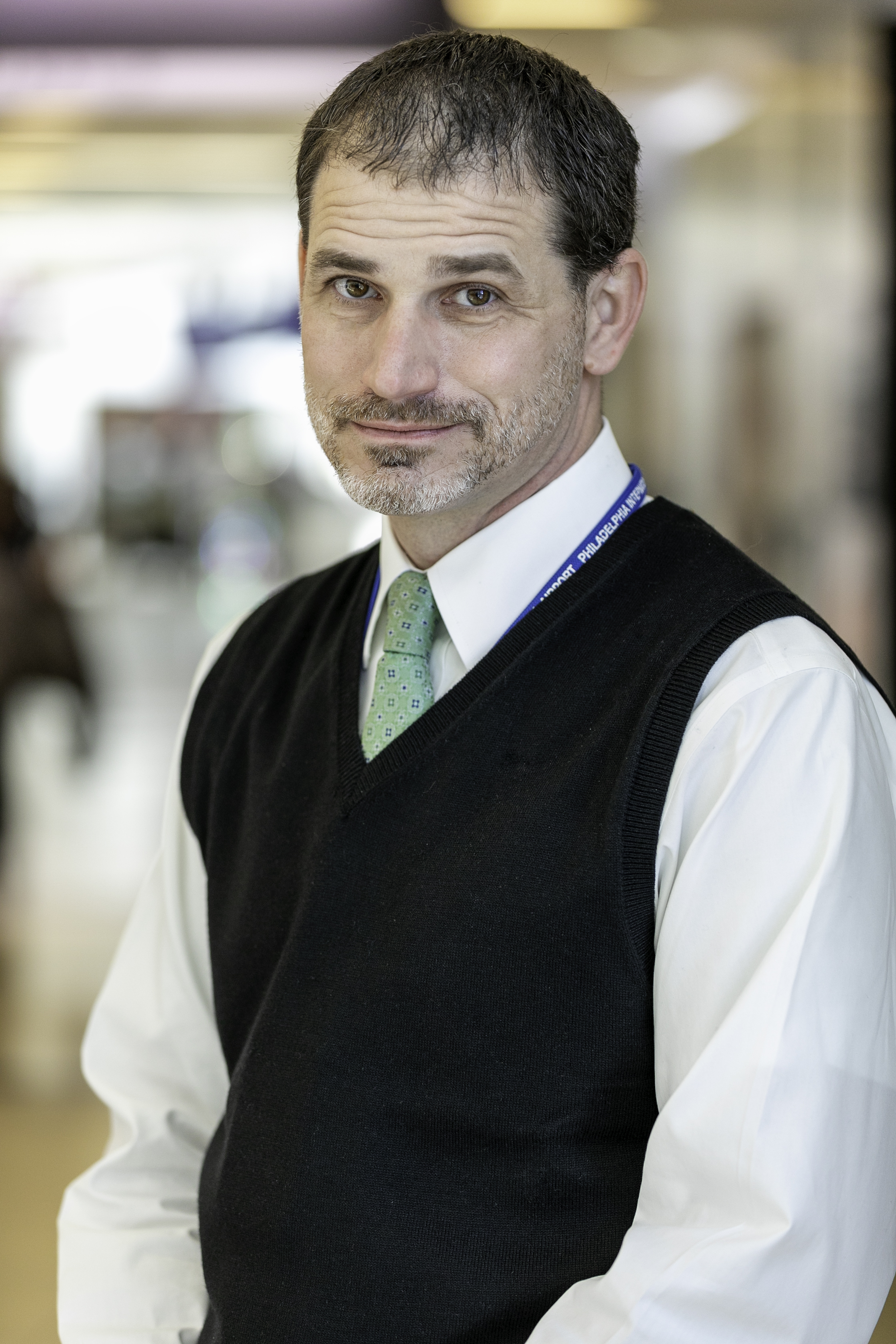 As an Airport Operations Officer Supervisor, Hall is essential personnel who is trained to respond to emergencies and wears many hats, including maintaining public safety, responding to operational issues, and inspecting all the electric carts at the airport. He set up the Airport Operations Center, which includes Job Control, security, and airside and landside operations. He also assisted Operation Allies Welcome with internal communications, logistics and developing statistics and data on arriving flights and evacuees. Over the past 18 months, Hall has been tasked with assisting unsheltered individuals by providing access to resources and shelters.    
"I coach them and give them information on job opportunities, I.D. replacement information, SEPTA cards, phone cards, and other resources available from the City of Philadelphia and Delaware County," said Hall. "I circle the most relevant resources. I provide them with life coaching as well."  
Hall has collaborated with Airport Police, outreach teams, Allied Security, and the City's Office of Homeless Services. 
In her recommendation of Hall, Semi-Skilled Laborer Deborah Hill stated, "I feel that he showed extraordinary empathy for the unsheltered individuals and tried to help them get services they need, from shelter to medical attention."  
"One of the Delaware County outreach workers said that I've developed a technique of motivational interviews with the unsheltered population even though I didn't realize that's what it's called," said Hall. "I sit down with individuals and start the conversation by asking them how they're doing, what's their plan for today and what are they doing next week."  
In her nomination of Hall, Director of Guest Experience & Chief Curator Leah Douglas stated, "Jeremiah is extremely committed to making a difference for the airport, the safety of our guests and employees, and for the unsheltered individuals that he serves." 
Hall has worked at PHL for 22 years and has many years of experience in the operations department that prepared him for his current role.  Working on the overnight shift, Hall and his colleagues would go into terminals where passengers were delayed due to weather and would assist Passenger Assistance handing out blankets, pillows, water and crackers.  
"It was called "Operation Smile" because of all the smiles and the thank yous that we would get. That was the reason we did it," said Hall.  
Hall graduated from the University of North Dakota in 1998 with a Bachelor of Business Administration in Airport Management and a Bachelor of Science in Airway Science Management. He's also a certified member of the American Association of Airport Executives (AAAE). 
When he's not at the airport, Hall enjoys spending time with his sons, who are Boy Scouts. Hall is a Boy Scout leader and a Cub Scoutmaster and is certified in CPR, water rescue and paddle craft safety. He lives by the Scout law which includes 12 principles, such as being friendly, courteous, and kind.  
"I challenge myself and ask myself 'how can I make someone's life better today?,'" said Hall. "I want people's lives to be changed for the better; to accept people and not judge them."  
Hall is a forward thinker and a glass-half-full person who focuses on the positive and thinks about the best resolution moving forward.   
Over his years at PHL, Hall has developed a metric system to measure and document the daily pulse of what the airport responds to. He's increased his skill set in communications and trend analysis.  
"I enjoy working with my co-workers—we truly are a family. I like the leadership and the leadership trainings available," said Hall. "Some of us have worked together for over 20 years, we communicate well and we're supportive and helpful to one another."   
The PHL Employee Recognition Program was established by the airport's Guest Experience (GX) Department. Honorees are nominated by their peers and selected by the GX Council Steering Committee's Employee Conduct and Recognition Committee. To nominate an employee click here. For more information about the program, click here.